Hungarian Food and drink Goulash Esterhazy cake Kurtos kalacs
Hungarian Food and drink Goulash Esterhazy cake Kurtos kalacs
In Budapest like any other big city has enormous quantity of Restaurants, Bars, and Tea houses. There are some trendy Retro places that are special here, they called ruin bars. They make a huge bar out of a socialist style residential block, creating a unique ruin atmosphere. This bars are very popular among students and young people. There are some Restaurants in a boat as well, on the River Danube.
Below we introduce some Hungarian food, drinks and sweets. To assume perhaps Budapest is not the best place if you want to loose weight.
Kürtős kalács
It is a tasty dessert in a Chimney form. There are different tastes like coconut, cinnamon, cocoa, walnut, vanilia, almond etc. Usually they add sugar to all different types.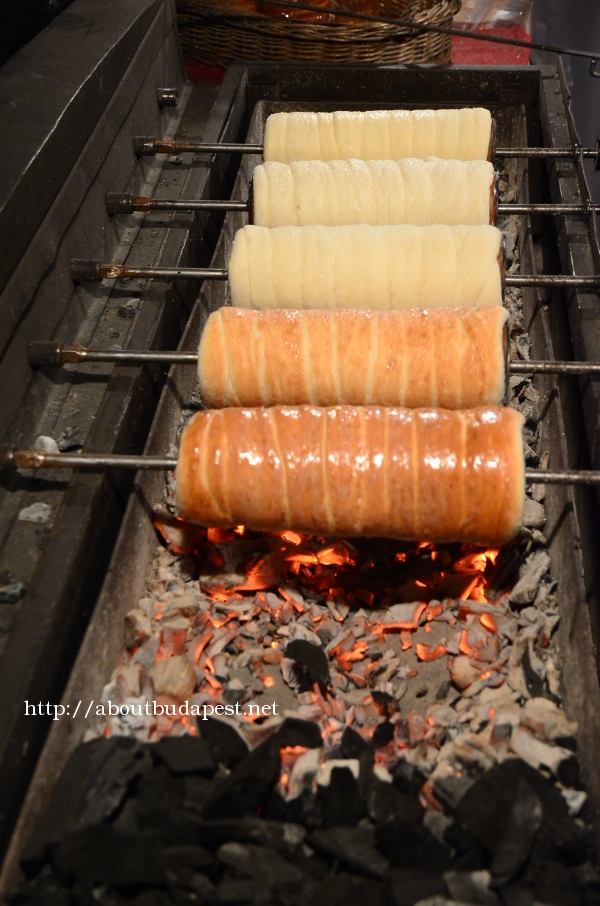 Typical Hungarian foods
If you interested in Hungarian foods, here you can eat as much as you want, with a fair price, unless you prefer places next to the Danube, the Castle district or somewhere in the inner city. The Hungarian foods and confectioneries are very nice.
Goulash Goulash Goulash !!!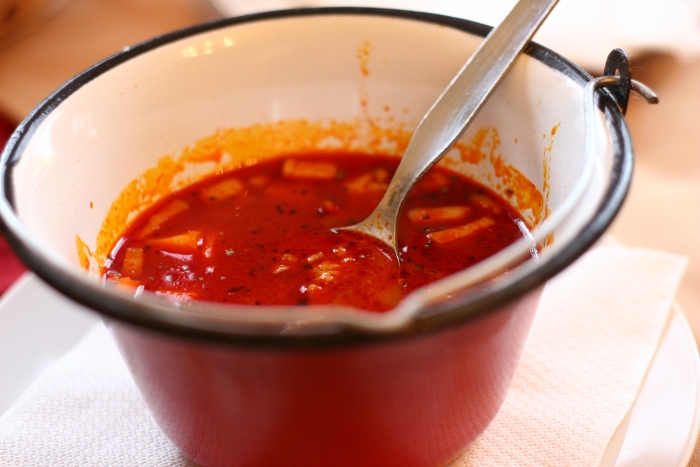 The name in Hungarian cousine. Perhaps everybody knows what Goulash is, even perhaps how to do it. First there are different Goulashes existing, in Hungary at least. First there is a "normal" Goulash and a "Bean Goulash" (Babgulyas in Hungarian), the ly letter not exist in English so it is very hard to explain how to pronounce it. The Goulash first is not the Bean Goulash. If we see history, it was a meal for nomadic people who take care of the Cows outside like Hortobagy plains, in cold winters they were with the animals, these people at least has a nice hot meal to be comforted. The traditional Goulash was made from beef not pig meal. It is more like a soup, than a stew, but can be anything in between or in the extremes as well. If it is very thin, soup-like I don't like it. The one I suggest to taste it is a main course not a soup. There are many quality existing from the finest to the one I cannot recommend to my dog. In cheaper places it is very common to made soups not properly. They just put ingredients together and some water and is finished. If in a proper restaurant they cannot make a proper Gulyas must forget the place forever. The Gulash is made from Onion, paprika and Cow meat. Usually they use the legs for this type of meat. It is a mean course if you are not a heavy eater, you eat a Goulash and some bread with it and you ok.
They sometimes made it from Pork as well, it is also can be fine, but this is not the original. There is a thing called Hamis (fake) Gulyas as well, just to mention, this is a real meal but is like a joke, without meat, I found it properly described by the name, I don't need this. The Goulash is a heavy meal, even Hungarians eat it rarely. But it is very nice. The bean Goulash is also very nice, but it is mainly bean, usually with smoked ham. For a Babgulyas a Sour Cream (Tejföl) is very nice, and bread as well. It is also a main course type meal. No need for a Soup, and a main course neither.
Beef Goulash recipe
If someone interesting to cook it, it is not very difficult to make it.
Ingredients
Beef legs 0.5 kg, Oil or fat, Onion, Paprika, Tomato
Spices: Paprika, Bay leaves, Garlic, Black pepper, Salt, Caraway
Vegetables: Potato, Carrot, Celery
First we cut the onion to small pieces, can do this with a machine as well, but not to smash it completely. And the we cut the meat as well to app 2cm (0.8 inch) pieces. In hot oil or fat we cook the onion, until it becomes transparent, after we remove it from the heat and put the paprika in it. (It can burn very easily). We mixing it together. After we put some water in it (1-2 dl) and put it back to the owen until the water disappears. Then we put the small meat pieces in the pot. We fry it until it all becomes white and we add the spices: pepper, salt, whole tomato and paprika without the inner parts just the outside yellow part we add. We can add smashed garlic, bay and other spices as well. We cook 1.5 hour, after we add water to it. After we add the vegetables (tomato, carrot, celery) we cook another half hour and before the end we add the galuska as well.
How to make galuska ?
Instead of galuska we can add pasta as well. For the galuska we need 1 or 2 egg and flour. In a middle sized pot we put some flour (30 dkg) and 1-2 eggs, we constantly add water to it, and make it a mass which has a density similar to what we use for the pancake. Little juicy. After we put it in boiling water (small pieces, made by knife or with a special tool with holes in it, app 1-1.5 cm small pieces, not round more like 1×0.6cm or 1×1.5cm, can be bigger as well, but longish shape) and not before, I usually put in separate pot not in the Goulash, but can be put there in the Goulash as well. It is only needed to put in at the end, for the galuska only several minutes needed.
Stew
Other very popular Hungarian meal is a stew. There are different stews: it is usually made from Pork, Beef or Calf stew, but there are many other stews as well from Duck, Roe Deer, Boar of many other.
Hungarian sweets

Well, there are so many very nice sweets in Budapest, it is hard even to think about. You can check the best confectioneries in Budapest at sub-pages. I try to avoid them (sweets) in order to keep weight. But I will show some of them here.
Food and Drink prices in Budapest:
Many people asks, how much is the Food and Drink costs in Budapest. My advice is check prices before order, especially places in Vaczi utca or anywhere else and you won't have any bad experience. If they don't show you a carte with prices on it, simply leave the place. If you want to eat cheap, the best places are in the Shopping malls, where you can have a main course for about 1000-1500 HUF – 3.3-5 EUR, 4-6 USD (1 EUR is app 300 HUF, or 1 US Dollar is app 230 HUF) , without beverages or soup, or dessert. In an average restaurant one person pays around 3-5000 Huf for two courses, 5000-8000 HUF for three courses. In more expensive places one can pay certainly more like in the Castle area, on a Danube, in Five star Hotels, or other expensive places.
Most Hungarians not visit Restaurants frequently thus in some Restaurants menu is available for much better conditions. Some Restaurants (for example Trofea Grill) for certain amount of Money (cheaper for lunch more expensive for afternoon dinner) one can eat as much as he can from all the meals.
An average drink(beer, wine) costs up to 500-1000 HUF in the Restaurant
A Coca-cola costs 300-500 HUF (2 dl)
Different kinds of Restaurants in Budapest:
In Budapest there are many kinds of Restaurants: apart from the traditional Hungarian restaurants, Italian, Greek, Indian, Argentinian, Japanese, Chinese, Korean, See fish restaurants are also available.
Traditional Hungarian Meals:
Most of them hard meals with paprika and onion no matter it is called a soup, usually enough for a meal if it is not a small portion. Perhaps ask the waiter it is a good quantity or just a little portion.
Goulash soup in Hungarian (Gulyas)
Bean Goulash (Babgulyas)
Jokai bean soup (Jokai bableves)
Stuffed cabbage (Toltott kaposzta)
Fish soup (Halaszle)
Fried walleye (Sullo roston)
Traditional Hungarian Cakes:
Dobostorta
Gundel Pancake
Somloi galuska (Somloi noodles)
Aranygaluska (Golden noodles)
Hungarian drinks
Tokai Aszu – dessert wine, very sweet
Palinka 40% alcohol usually form Pear or Peach
Must – (pronunced differently than an English word) it a grape before it becomes a wine very nice, in certain periods of the year, non alcoholic
Unicum – strong alcoholic drink, a bitter liqueur from many herbs