Currency of Hungary
Currency of Hungary
In Hungary the Hungarian Forint is the valid currency (HUF). One euro is worth 300.25 forints (rate of 10th January 2014, usually the rate is lower around 285-295). (Average rate of the National Bank.) Several places they accept euro as well, but usually the rate offered is not beneficial. The interest rate of the Hungarian National bank is 3% from 18th of December 2013.
Possibilities for money exchange
Changing money is possible at lots of places in Budapest: in Banks, Travel Agencies or Currency Exchange offices in every mall, next to the main roads in the city center. Currency exchange offices are usually lot cheaper than Banks. In most larger stores it is possible to pay by credit cards as well.
_______________________________________________________________________________________________________________
Rates of the Banks
At the links below, you can check the daily forint rates of the Hungarian Banks. The right side of the sales rate can be found, Left the buying rate can be seen. It is also possible to check below the average rate of the National Bank of Hungary as well.
Correct change currency rates
Several other links of exchange rates
valutacentrum.hu
valutabank.hu
portfolio.hu
Forint denominations
20 000, 10 000, 5000, 2000, 1000,500(banknotes),200,100,50,20,10,5 Forint(coins). Counterfeiting is rare in Hungary. The higher denomination banknotes has holograms and other types of security signs on them.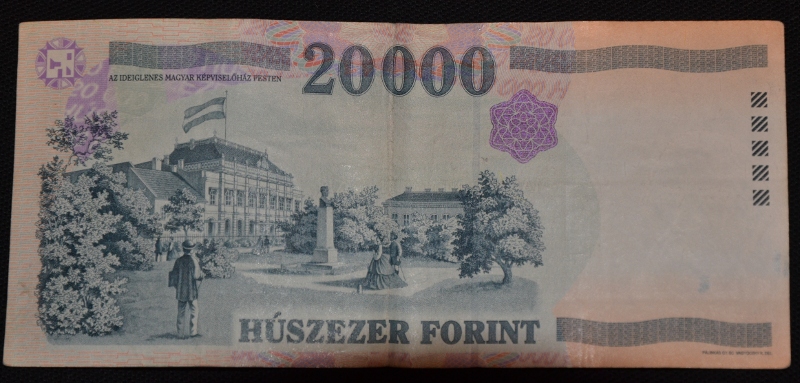 Usual prices in Budapest
.
A dinner for one people usually cost between 2000-6000 HUF, depends on the place (a Soup, a Main course and perhaps Dessert). Places like Vaczi utca, Castle district and places next to the Danube are usually more expensive.
A hamburger costs 250-300 HUF in a fastfood restaurant. (Mc Donalds, Burger King)
A bigger sandwich like whopper cost around 1000 HUF (3-4 EUR).
A 1.5l drink costs usually cost 350-400 HUF in the store, a 1.5 liter mineral water around 80-120 HUF.
Taxi fares are now united in Budapest. All taxi obliged to follow this rates.
The Rates are as follows for a Taxi: basic fee is 450 HUF(always needs to pay) the rate is 280 HUF / km, the cost of waiting is 70 HUF / minute. (January 2014).
see also here National taxi